Spring has finally arrived, and our development team has been hard at work.
Since updates are all automatic they are sometimes easily missed – here is a quick overview of our latest update.
With the May release we present you four new important features:
Preparation of the Financial Statements has been optimised –> Comparative Statements
Netting claim and credit invoice has just become much easier
Objects can now be shown on the SmartAccounts default invoice template
XML file for VD report on intra-community supply is now available
…and many more smaller functions that all make your accounting processes a bit easier.
Financial Statements
Until now it has been possible to compare only two different periods of Income Statement, Cash Flow Statement or positions of Balance Sheet, but now a new function to prepare statements on a comparative basis has been included.
This new feature allows statements to be prepared for multiple periods and provides a comparison of your company´s financial performance over defined periods or positions.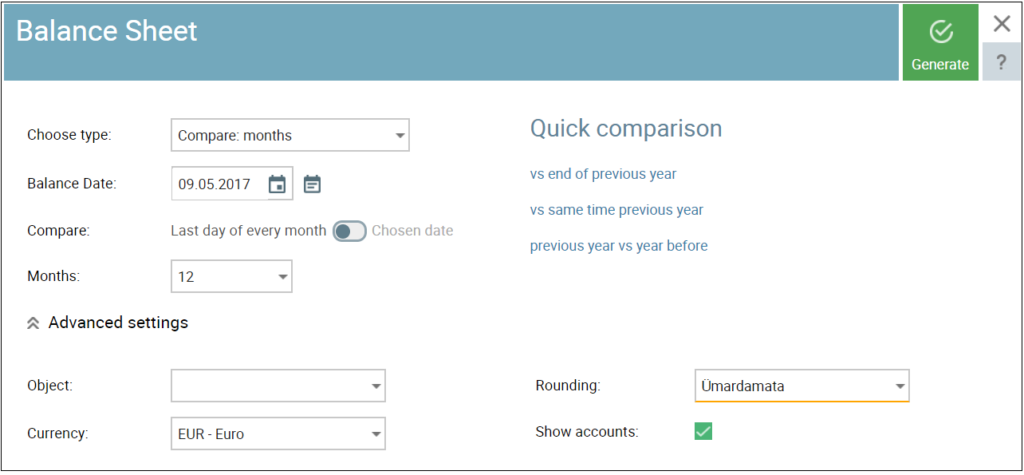 Of course, there is still the opportunity to prepare a simple statement as well.

Netting claim and credit invoice
Sometimes a credit invoice has to be issued. In order to settle your sales and credit invoices, a netting payment should be recorded.
From now on netting can be performed much easier. Once a credit invoice has been issued, SmartAccounts asks upon saving if you would like the system to net the original invoice and the credit invoice automatically. After confirmation, both the invoice and the credit invoice will show as settled.

Please note that the date and entry date of credit invoice must not be earlier than the date and entry date of the sales invoice.
Object of Sales Invoice
Objects can be added to your invoices and from now on it can be set if you want these objects to be shown on the invoice PDF as well. For the objects to be shown on the invoices, open Settings – Template Settings (Kuva müügiarvel objekt – Yes).

VD – Report on intra-community supply XML file now available
Based on your sales invoices an XML file for the VD Form can now be created. Just download the file and upload it to E-Tax environment. No manual filing anymore!

And some more:
• Locking date has become more flexible. Even if this date has been set, changing offers and orders remains available without the need to change the locking date.
• Extra space has been given to the price input field on the invoice row.
• Client name has been added to the document file name as well – documents generated in SmartAccounts are now named "Company name_Client name_Doc_nr".
• Financial year for the next period is added automatically.
• A list of default items has been added to the new companies inserted to SmartAccounts from now on (optional).