October Updates 2017
Here´s a summary of what we´ve lately released:
New reports: article sales summary report and article purchases summary report;
New features when sending emails from SmartAccounts;
The name of the file generated in SmartAccounts is now changeable;
Vacations and absences can now be copied;
Objects can be inactivated;
New API feature – adding and editing files;
Documents imported from Scoro software now create warehouse movements;
New comprehensive sales report – "Article sales summary report"
We have added new comprehensive article sales report which you will find under "Reports – Other reports"
This new report provides a good overview of the sales of your articles. At first, you´ll need to which type of report you are looking for. You have the following choices:
Sales to clients by articles;
Sales to client groups by articles;
Sales to countries by articles;
Article sales by clients;
Article sales by client groups;
Article sales by countries.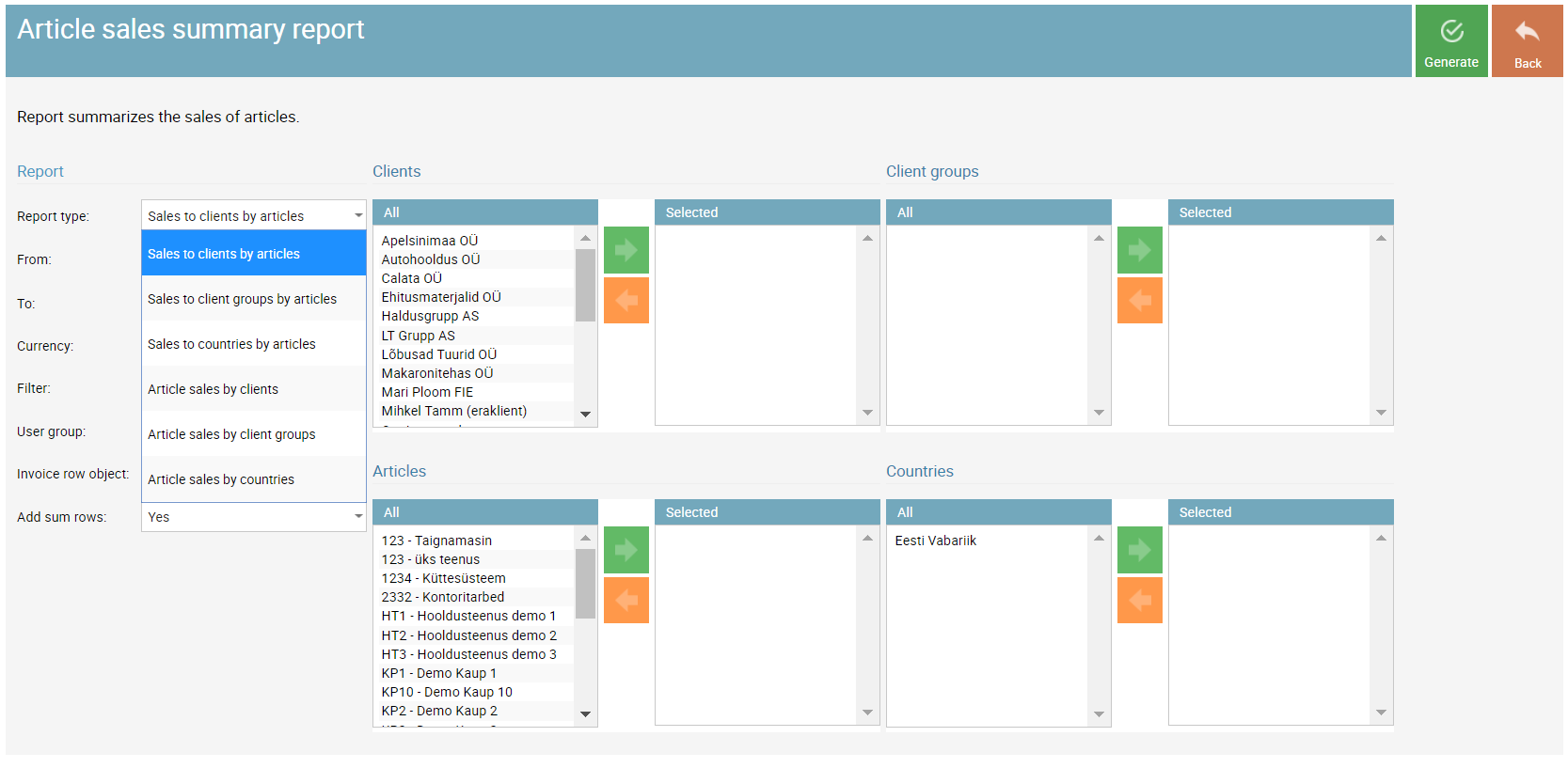 The extra cherry on top of the cake is that we´ve created a similar report for purchases as well. Report is called "Article purchases summary report" and it helps you analyze the purchases of articles.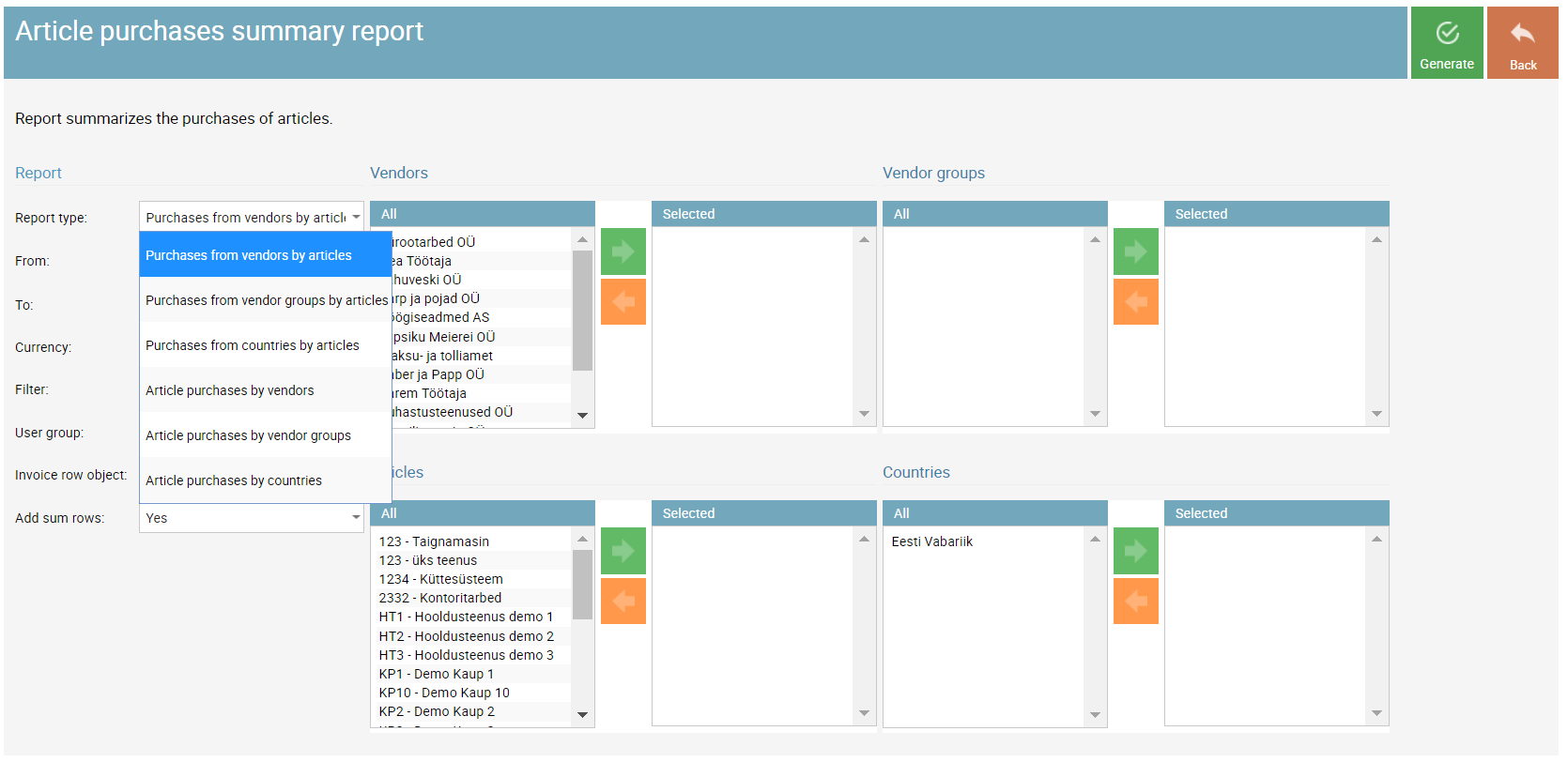 Sales invoice, offer and order default email text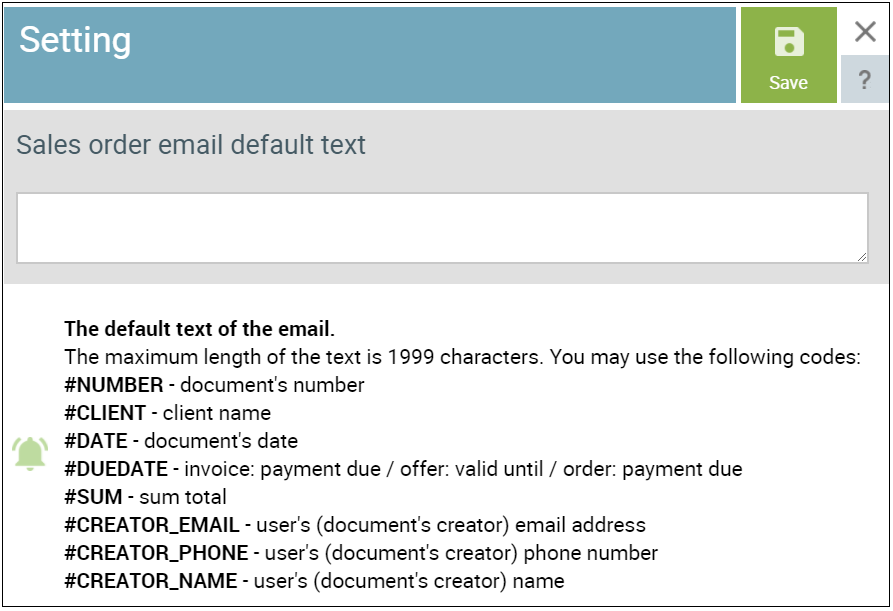 You can now include the following parameters in your email texts which will be replaced automatically when sending invoices, offers or orders from the system:
#CREATOR_EMAIL – user's (document's creator) email address
#CREATOR_PHONE – user's (document's creator) phone number
#CREATOR_NAME – user's (document's creator) name
Sales invoice, order and offer file name
We have finally made documents´ file name generated in SmartAccounts easy to change. You can use the following codes in the file name:
#COMPANY_NAME – company name
#CLIENT_NAME – client name
#DOCUMENT_NUMBER – document number
#DOCUMENT_DATE – document date
For changing the file name, please navigate to "Settings – Settings – Sales invoice, offer and order file name".
Copying vacations and absences
Button "Copy" has been added to simplify entering multiple vacations or absences.
Objects

From now on it is possible to set objects status as inactive. Changing objects status is easy. Just navigate to "Settings – Objects" and uncheck the box "Active".
Once the status has been changed to inactive, this particular object won´t be displayed in the list of objects on invoices, offers, orders and reports.
Changing object status back to "Active" is as easy as described above.
New API feature
New API feature out now – add and edit files. Complete API documentation with description of all methods is available here.
Scoro software and warehouse items
We have some good news for our users who's accounting is integrated with Scoro software. If you want your Scoro items to be saved as warehouse items in SmartAccounts then just add a tag "Laoartikkel" to your item in Scoro.
When SmartAccounts recognises an article with the tag "Laoartikkel" on your documents imported from Scoro, a warehouse item will be saved, the warehouse will be chosen on the invoice and warehouse movements will be created.
For further assistance please contact our helpful support team info@smartaccounts.eu, 660 33 03.