We have great news! Our reports on prepayments and unpaid invoices have some important new features:
Prepayments reports can be filtered by date

Unpaid invoices reports include prepayments
Prepayments
Up to now, our client prepayments and vendor prepayments reports only displayed prepayments that were active on the day the reports were generated. The new date filter lets you see what the prepayments situation was on any date of your choosing.
We are very happy to bring you this simple but important new option.
Unpaid invoices
Before the update, our unpaid sales and purchase invoices reports only showed prepayments if the partner also had unpaid invoices. Now the report filters include the following separate options:
Show invoices

Show prepayments
If both are valued 'Yes', unpaid invoices and prepayments are displayed in the report. If only invoices are set to 'Yes', the report includes only unpaid invoices and not prepayments. If only prepayments are set to 'Yes', the report includes only prepayments and not unpaid invoices.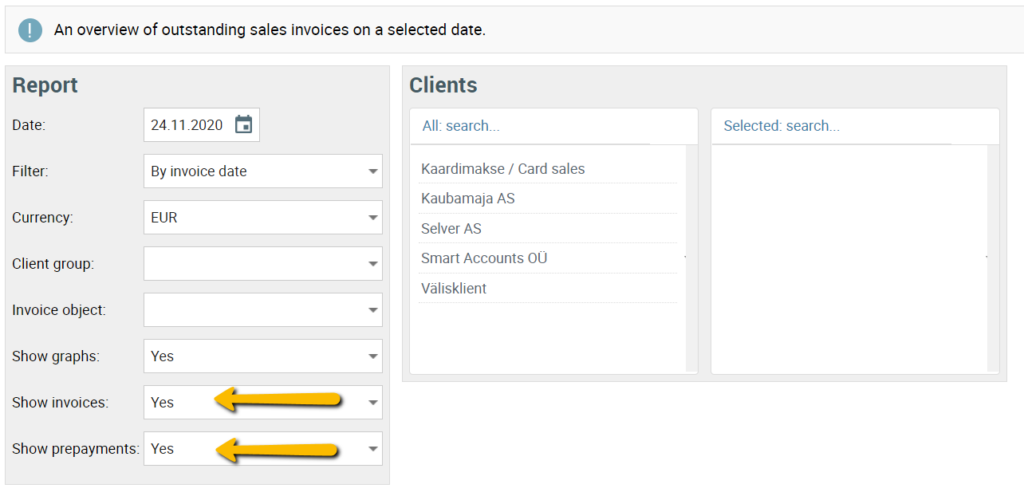 We hope these little improvements make your life easier and you don't have to generate two separate reports for prepayments and unpaid invoices any more.
You can find the aforementioned reports by clicking 'Reports – Other reports' in the menu.
If you have any questions or concerns about the updates in particular or SmartAccounts in general, please don't hesitate to contact us by e-mail info@smartaccounts.eu or by phone 660 3303. We're here to help