The first major update of the 10th anniversary of SmartAccounts is here. This time our focus has been on the automation and optimization of some very important processes connected with fixed assets and recurring invoices.
Our developers have worked both smart and hard on ensuring the new functionality is intuitive and easy to use. This update brings us another step closer to a truly smooth and smart way of doing accounting.
Our latest update includes:
the automatic registration of fixed assets
the automatic disposal of fixed assets
additions and impairments to fixed assets
the automatic creation and sending of recurring invoices
Brexit related changes in SmartAccounts
Changes to fixed assets
SmartAccounts' fixed assets functionality has been greatly revamped and we are glad to announce some major improvements and automations to fixed asset operations.
You can now automatically register new fixed assets with purchase invoices and dispose of existing fixed assets with sales invoices. Of course these actions also create the correct general ledger entries automatically.
Fixed asset additions and impairments can now be created with just a few clicks. Fixed asset cards and the fixed asset report (previously the depreciation report) have also been upgraded.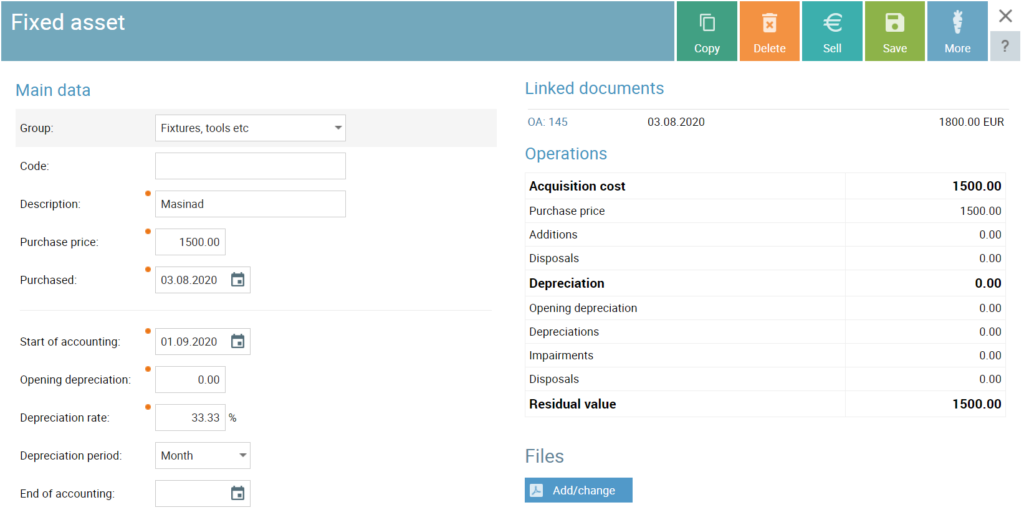 Fixed asset settings is a totally new thing that enables both the previously mentioned new functionality and also the quicker manual creation of fixed assets by using fixed asset groups as templates.

Fixed asset groups and existing companies
If there are operations related to fixed assets (e.g. purchases or sales) in your company please check out 'Fixed assets – Fixed asset settings' from the menu and update your list of fixed asset groups if necessary. This is important as it enables the use of the aforementioned new automatic functions.
See our new help documents:
Automatic recurring invoices
We were very excited when the possibility of creating recurring invoices first came to SmartAccounts. The functionality was very good and solved a big problem but one thing was still missing – creating and sending the invoices without any manual actions.
This inconvenience has now been removed and recurring invoices can be created and sent to clients totally automatically.
To activate this functionality on a recurring invoice type of your choosing, you must check the following options for it:
Create automatically
Send automatically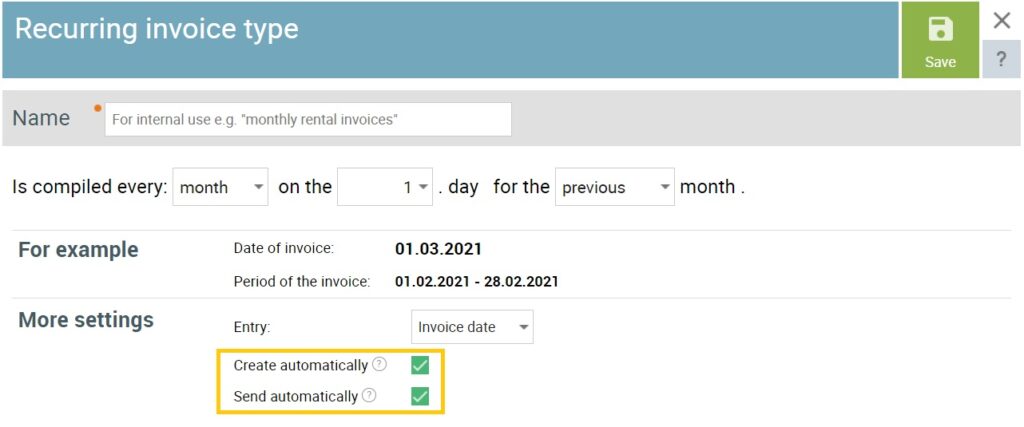 The invoice is created and sent according to the recurring invoice type settings. You will also be notified about any such successful or failed automatic actions on the front page of SmartAccounts. Very convenient!
Brexit related changes in SmartAccounts
Countries now have European Union membership start and end dates.
VAT return notifications about sales or purchase invoices to the UK if the county's EU membership end date is not set.
VD declaration changes related to Northern Ireland.
More…
Documents are now files
Uploaded files are now named 'Files' instead of the previous 'Documents'. This is a change we made throughout the whole application but it only affects the name of the component.
A sleeker financial years page
Financial years are now listed in descending order and more information about them is visible.

An improved chart of accounts
We modernized all our default charts of accounts so new companies have an easier time. There are many new fixed asset related accounts, items and more. The Tax and Customs Board vendor now has the 'Prepaid taxes' prepayment account by default.
Changes to SEB Baltic Gateway activation
The SEB Baltic Gateway activation process has changed a little. You can still activate the service in 'Settings – Connected services' but you are then automatically sent to SEB Internet Bank for Business where you must sign an application as well.

Changing employee data
You could previously only change employee data by opening the connected vendor. That can now also be done straight on the employee card. You can also now enter multiple email addresses for an employee.
I have questions
If you have questions or suggestions about the updates please don't hesitate to contact us via info@smartaccounts.eu or by calling 660 3303.