Email functionality improvements
Content and status of sent emails now visible on the invoice screen
It's now possible to check the content and sending status of the e-mails that were sent out of SmartAccounts (including sales invoices, offers, orders and purchase orders).
You'll find this information under the payments section when you have the sales invoice open, on other documents you can see this just below the rows.

Just click on the link below the item rows and a new window containing the information about sent e-mail pops up.
Please note that this new possibility works only with documents that are created and sent out after this update (beginning from August 27th ).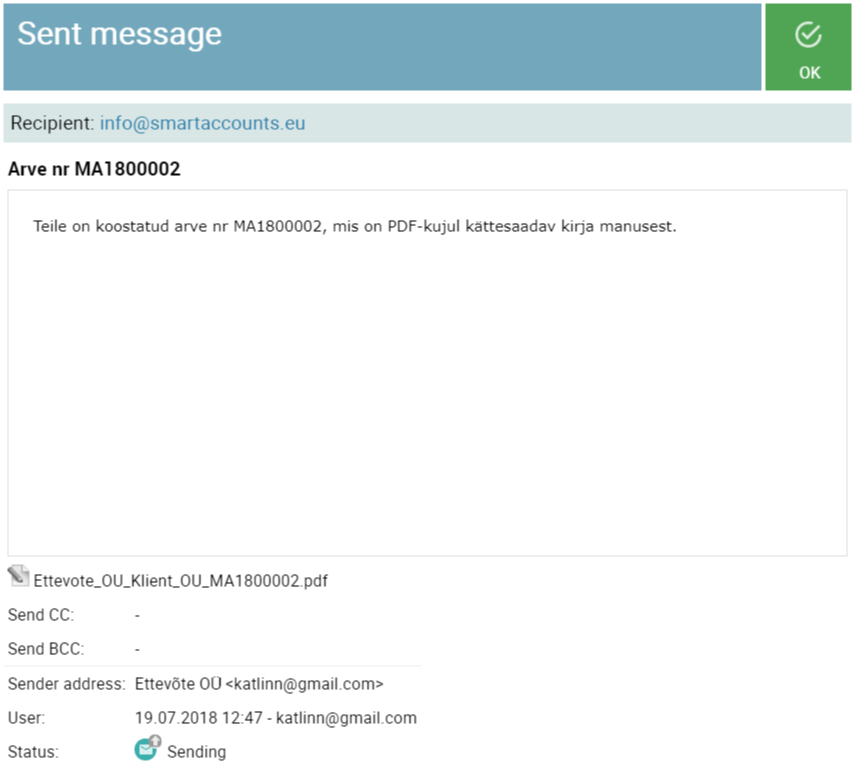 New menu item "E-mail" and e-mail templates
Under "Settings" you'll find a new menu item called "E-mail". The most useful thing here is that you can now create e-mail templates for different occasions.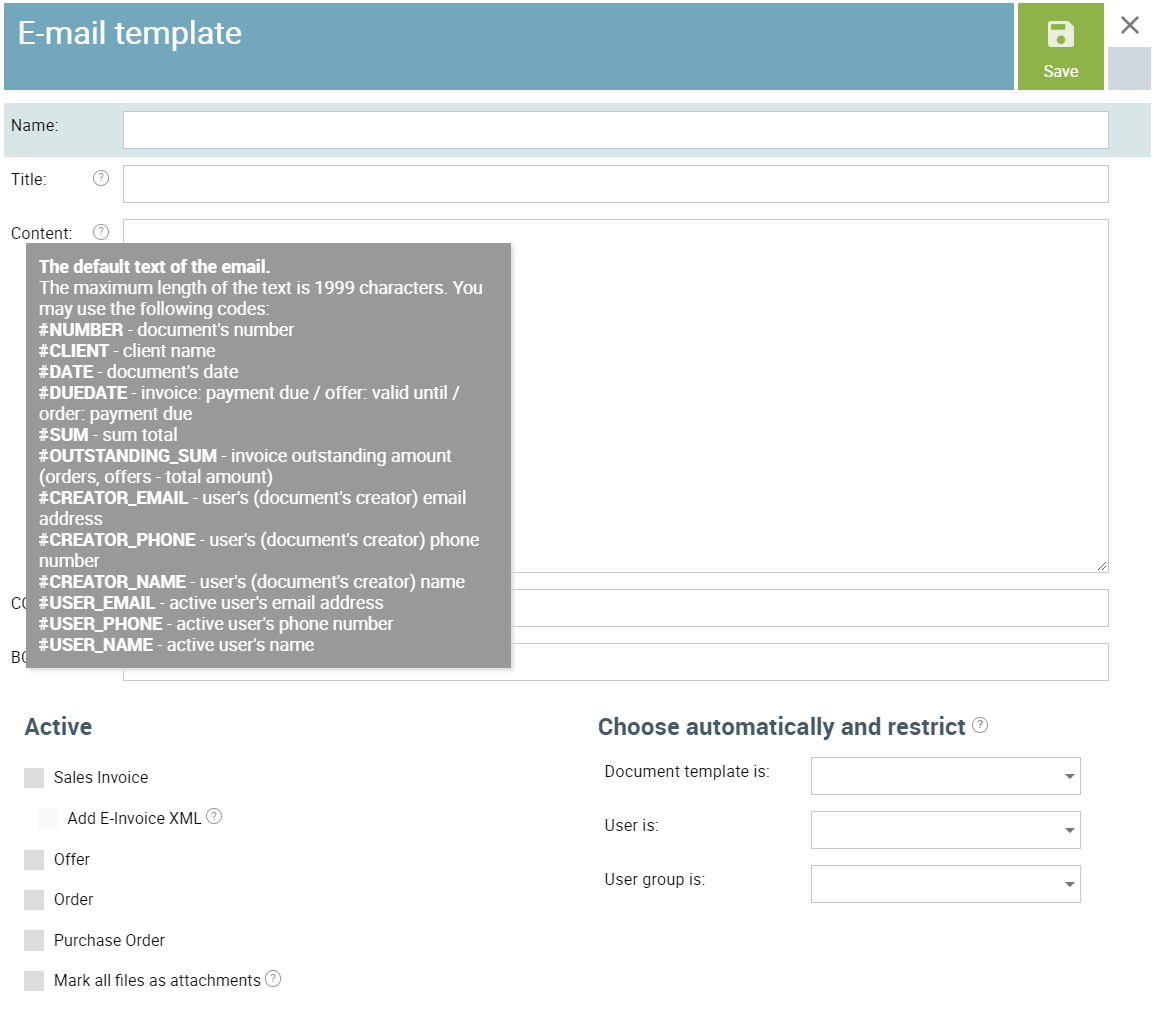 We moved everything concerning emails here so it's nice and neat. So you'll find some options which used to be under Settings – Settings here as well.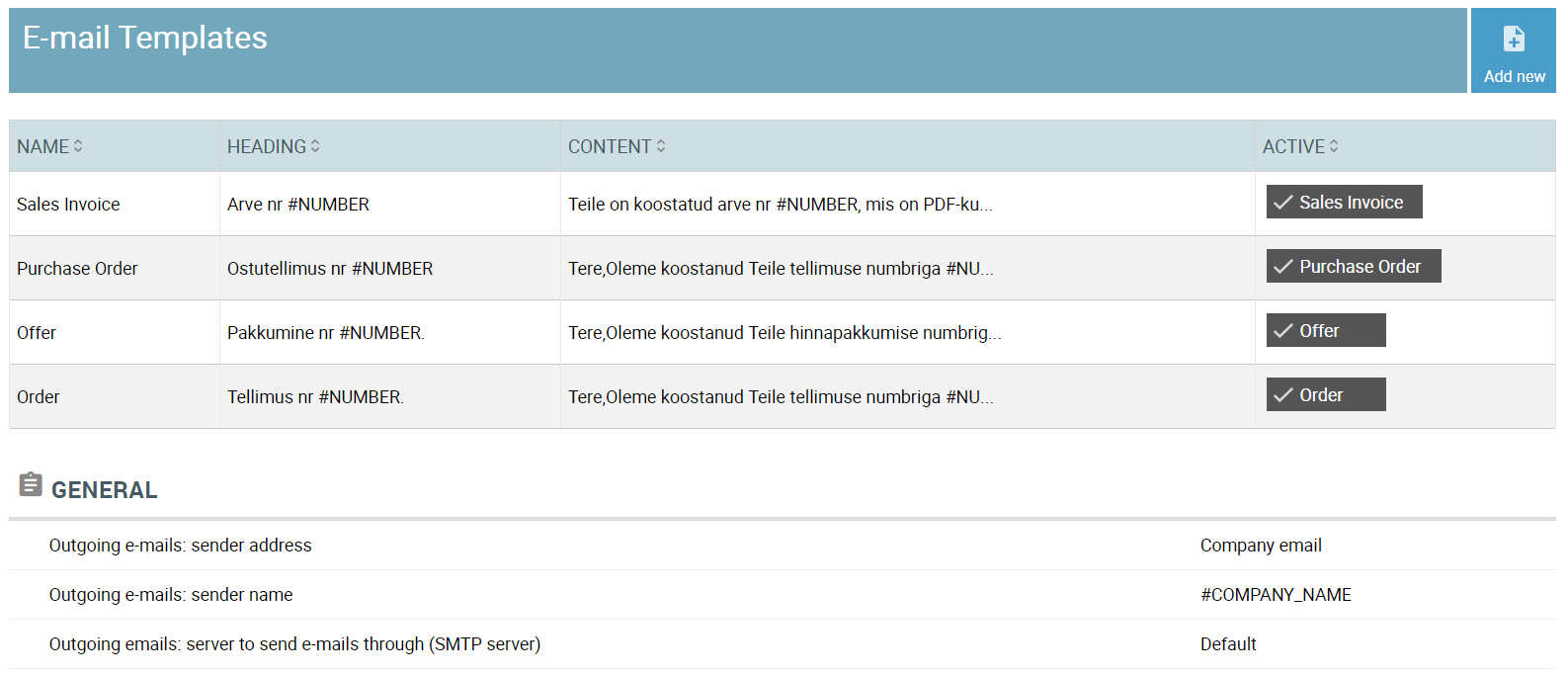 Chage your outgoing e-mail server to zone.ee
If your webpage and email is hosted by the popular Estonian hosting company zone.ee then you can change your email settings so that your emails will be sent through their servers. This might be a good option if you have SPF filter enabled.
Export of payment orders improvements
EU payments and IBAN rules simplified
Until our latest update, it was possible to send payment orders with Estonian bank accounts only. So we've simplified the rules and now you should be able to create bank payment orders with any other EU bank account number from SmartAccounts.
New filter on payment orders screen 
We added "Object" filter to the payment export screen so that you could filter payment rows by the desired object.

New options on the payment orders screen

It's now easier to group the payment orders by vendor (so you don't have 10 payments to 1 vendor on one day) and choose when the payment should be made.
New feature – warnings about unsaved changes (optional setting)
Have you ever accidentally closed a document window without saving your changes first? Maybe a couple of times? Maybe more… It's annoying, isn't it?'
Since we found it really annoying as well, it's now possible to have warnings when you close the document without saving. You can activate this feature under "My User Data". And as we understand that others might find these popups annoying, it's completely up to you if you activate the feature or not.

Slight changes in SmartAccounts's menu structure
Menu item "Template Settings" updated
We made the structure of the page more logical. Now you can upload a company logo on the same page and the bank accounts shown on the invoice are displayed here (you can easily change them as well).

Everything concerning the document templates can now be found under one menu item.
Menu item "Settings" updated
Some of the information that used to be under "Settings" move to "E-mail" menu item (e-mail default text is now adjustable using e-mail templates etc.). So the whole "Settings" page got more compact and shorter – simple and nice.

And there's more:
The number box of sales and purchase documents allows now up to 64 characters (applies to all documents – sales invoice, purchase invoice, order, offer, purchase order)

A new element added to custom templates [Line.VATName] – this element displays VAT rate name on the invoice row.

Now it's possible to copy VAT rates from another company that is associated with you in SmartAccounts;
We finally made it possible to place all the document templates (SmartAccounts default templates and company custom templates) in the desired order. So now you can have English template first and your company custom template second or the other way round. You choose.
Enjoy the rest of the summer and please don't hesitate to contact our helpful support team for further assistance info@smartaccounts.eu.