Here's a short list of our updates in November
New feature – emailing payroll slips to employees

Printing documents like sales invoices for example just got more convenient

New feature – save delivery addresses on purchase orders

We now show warehouse stock information on purchase orders, sales orders and offers as well

You can now have your general ledger report containing only accounts with entries in the selected period

We completely redesigned our connected services page so you can get a clear overview of services which can be connected to SmartAccounts and you can also activate some of the connections right there (including the API)
Emailing payroll slips to employees
Doing payroll just got a little easier because SmartAccounts now has the capability to send payroll slips to employees via email. You can send payroll slip to a single employee or all of the employees on the salary sheet. Start from "Payroll – Salaries" and open the relevant salary sheet. Then you can use the envelope icons next to specific employees or click on "More – Send salary sheets" to send all the employees their payroll slips at once (see the screenshot below).

Printing documents just got easier
Good news! Now you can download OR print your sales invoices, orders or offers directly from SmartAccounts. That means you don't have to download the invoice just to be printed. Just click 'Print' and send your document to the printer.

This new feature is available in offers, orders, purchase orders, warehouse movements, purchase invoices and salaries.
New feature – save delivery details on the purchase orders
If you're using purchase orders with delivery details you can now save frequently used addresses or any other information which you frequently have in the field "Delivery details". This will save you time on data entry and make input a little less error prone.
To add new or manage saved delivery details please click in the box 'Delivery details'.

Stock items quantities now visible on purchase orders, sales orders and offers
Now you can check stock items' warehouse quantities on purchase orders, sales orders and offers as well so you know which items you have in stock and which items have to be ordered.

Please note that warehouse movements are not created upon saving these documents. Quantities are still just indicative numbers for helping to enter offers and orders faster.
General Ledger – generate the report containing only accounts with entries
We added a new option to the general ledger report: 'Display only accounts with entries'. Select this option if you wish to generate a report that shows you only accounts that have transactions in the selected period.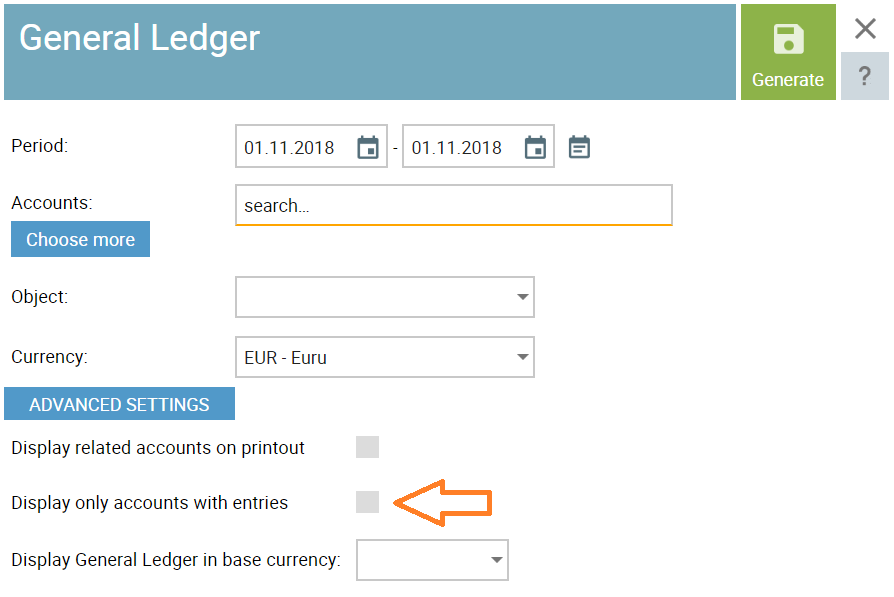 API Service activation
What is API Service and why would you need this?
The simple answer to this question is that API can be used to synchronize data from external applications (for example WooCommerce to SmartAccounts) or to query data from SmartAccounts for better reporting. In brief you need SmartAccounts API to communictate with external sofware products which in terms helps you automate your processes and minimize tedious paperwork.
That is why we made API service activation easier. To activate the API service on your account you must meet the following criteria:
You are the administrator of your company

Your company has the monthly fee package activated
All good? Let's go!
You can activate the API service on the page 'Settings' – 'Connected Services'. You may also notice that this page has a totally new appearance and now there's a much better overview of all the applications that can be connected to SmartAccounts.