LHV Connect
If you have an account in LHV Bank and you wish to get information about transactions on your bank account automatically, you can activate the LHV Connect service.
After doing so, new transactions will appear under 'Payments – Bank statement import' within only a few hours of taking place.
Read more about our new bank payment import functionality here.

The activation process is really easy:
Fill in an application on LHV Bank's home page. Be sure to choose SmartAccounts as your accounting software and tick the service 'Account statement".
Wait for a while. The agreement to activate the service is sent to you via email. Send the signed document back to LHV.
When you've received an email from LHV informing you that Connect has been set up, come back here and activate the service in SmartAccounts which can be done by a member of the board.
Activate the service in SmartAccounts
To activate the service in SmartAccounts, please navigate to 'Settings' – 'Connected Services' – 'LHV' and press 'Activate.


We need a legal representative of the company to activate the service. So there's three possibilities to complete the activation process:
If you are the representative of the company and also a SmartAccounts user, you can easily activate the account with your ID-card or Mobile-ID.
If you are activating the service for a company but you are not on the board of the company, please send the link on the page to the legal representative of the company who can finish activating the service without having to have a user in SmartAccounts.
If for any reason activating the service through ID-card or Mobile-ID is not an option for you, you can download an application to activate the service from the same page. A representative of the company needs to sign the application and send it to us at info@smartaccounts.eu. This method is the slowest and the service might not be activated before the next business day.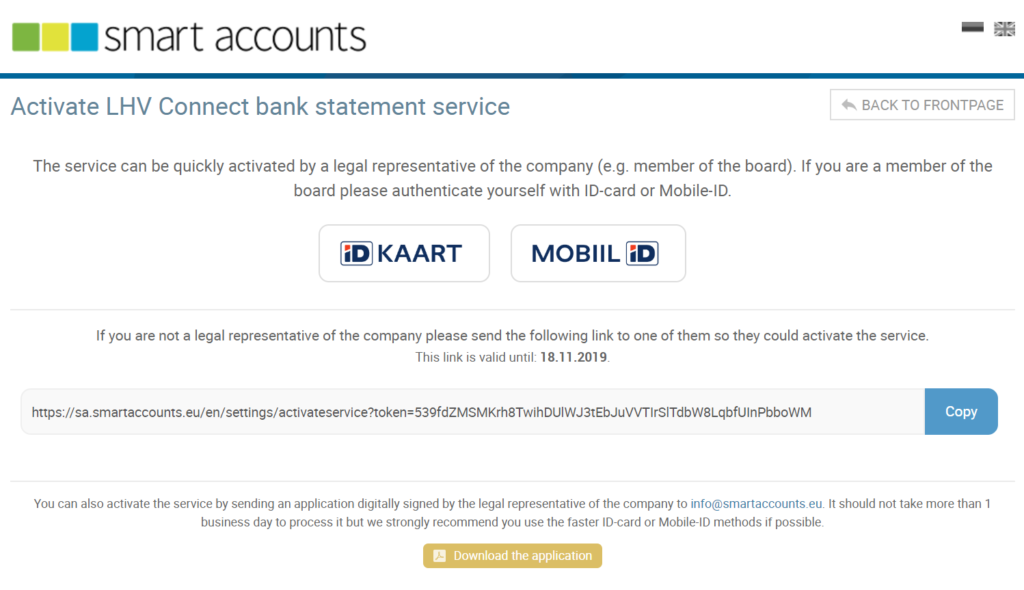 Great. Now you've activated the LHV Connect service. 
LHV Connect