Welcome spring, and goodbye winter! It's a great pleasure to see spring arrive, with the sun shining brighter and higher after its long winter break.
Our developers have been hard at work in anticipation of spring, and now it's time to unveil their latest achievements. We've made some significant additions that will make your work more efficient.
The main updates are:
A Tax and Customs Board interface for submitting VAT returns
Login to SmartAccounts with Google or Facebook accounts
Importing Wise bank account statements in XML format
New integrations with Yester, Banqup, Bouk, and WooCommerce
Interface with the Tax and Customs Board
We're thrilled to announce that we've added an interface with the Estonian Tax and Customs Board (MTA) to SmartAccounts. This means you no longer need to log in to e-MTA to submit your VAT returns. You can now send your declarations directly from SmartAccounts to the Tax and Customs Board. You can choose whether to send a confirmed or unconfirmed declaration.
To activate the interface, you need to give SmartAccounts access to your MTA account in the MTA environment, then activate the service in SmartAccounts under Settings > Connected services.
We're also working on adding the ability to submit payroll tax forms (TSD) and data to the Employment register.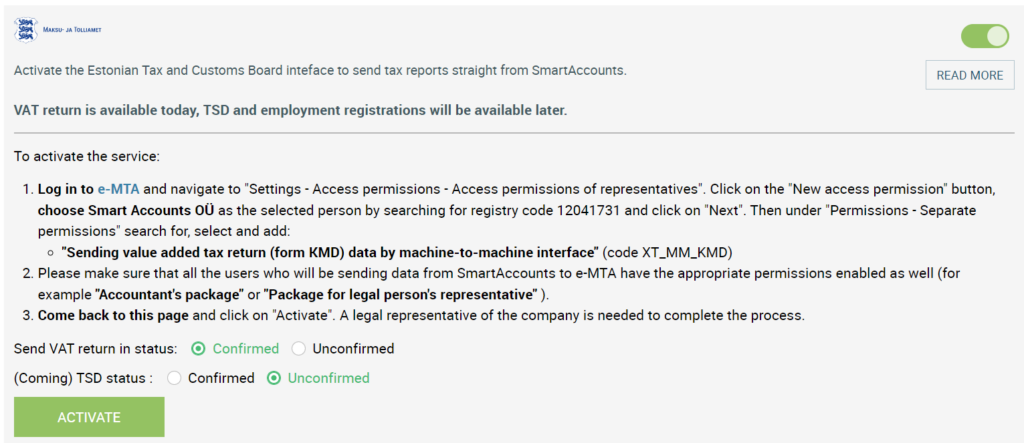 Login with Google or Facebook
We've made logging in to SmartAccounts even more convenient by adding the option to use your Google or Facebook account.
You can link your account on your user settings page (Settings > My user data) and disconnect it if needed. Your SmartAccounts username and the email address of your Google or Facebook accounts do not even have to match. It's that easy!
Importing Wise bank account statements in XML format
We've added a small improvement to bank payment imports, allowing you to import Wise bank account statements in XML format. As with other bank imports, you need to add your Wise bank account under Payments > Bank Accounts.
You can upload the statement file on the Payments > Bank sayment import page. Learn more about importing payments here.
New integrations
We've added four new external interfaces to SmartAccounts:
Yester: for easier management of employee vacation days
Banqup: for invoice management and digitization
WooCommerce: for a new interface between your WooCommerce store and SmartAccounts
Bouk: for managing accommodations and extra services
To activate these integrations, you need to generate API keys in SmartAccounts.
Other Improvements
Warehouses
You can now make warehouses inactive in SmartAccounts and also filter, search, edit and create new warehouses without leaving the document you are editing.
Scoro software error messages
We've added more information to error messages that occur during Scoro software imports, to make it easier for you to troubleshoot.
Internal information field in import/export files
You can now import internal information fields for vendors, clients, and items.
Sick leave benefits from day one
You can now create an absence type in the payroll settings that pays out sick leave benefits from the first day of absence. To create this type, please go to Payroll > Payroll settings:

We hope you find these updates useful in making your work with SmartAccounts more efficient and effective. If you have any further questions, please do not hesitate to contact us.